What is hardscaping? The term is a general description for outdoor construction involving a variety of "hard" materials, quite literally. We're talking concrete pavers, brick, natural stone, and other materials that provide a solid base to walk or relax on. Hardscape is an integral part to any balanced landscape plan and adds function to outdoor spaces around the home.
How about masonry? Masonry is a general statement that falls under the hardscaping umbrella. Generally speaking, the term masonry refers to stone or brick construction using cement mortar to bind the materials together. A brick patio where the bricks are set on a compacted gravel is simply paver patio.  If the bricks were set into concrete and then cement was used for grout, it would technically be a masonry patio.
Avant Gardens and Hardscapes offers outdoor hardscaping/masonry design, installation, and even restoration services. In fact, we consider hardscaping to be one of our core services. Our highly skilled and professionally certified hardscape installers can bring any vision to life with their experience and attention to detail.
Ready to begin planning your own hardscaping project? We start the process through a free consultation to ensure we are considering all of our client's needs from the start to finish. We stand behind every aspect of our work and have an extensive list of references for consideration. Trust Avant Gardens and Hardscapes to construct your hardscape according to best practices and local codes. Because we are a design/build firm, we offer seamless process that makes everything easy on you.
5 Year Hardscaping Guarantee
Avant Gardens and Hardscapes offers a 2 year warranty on all hardscaping work, but rest assured your construction project will be built to last a lifetime. Our hardscaping and masonry crews are professionally certified in all aspects of their work.
Outdoor Hardscape Design Gallery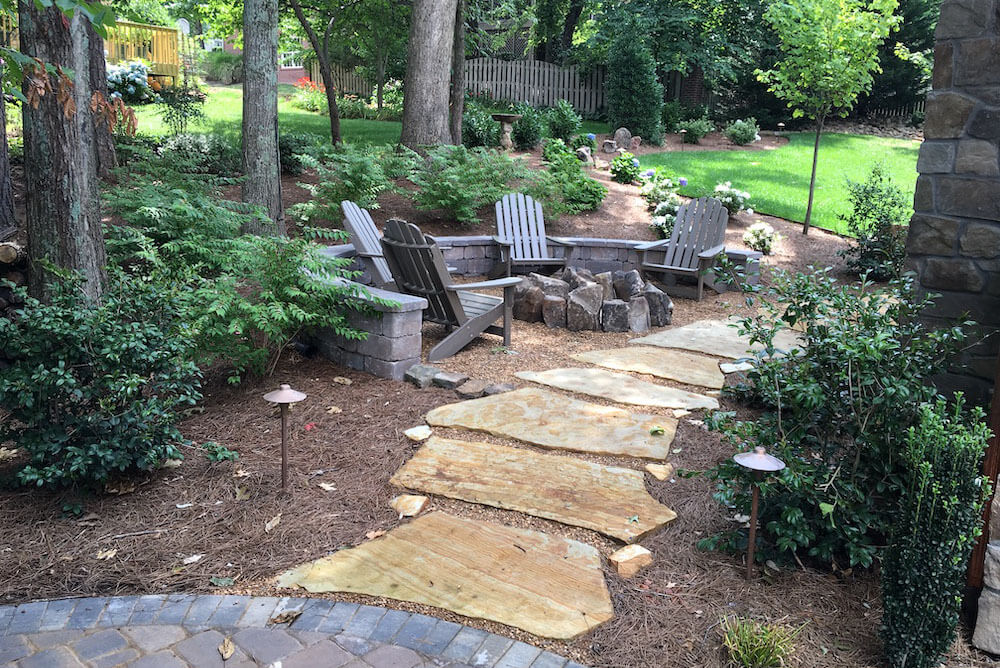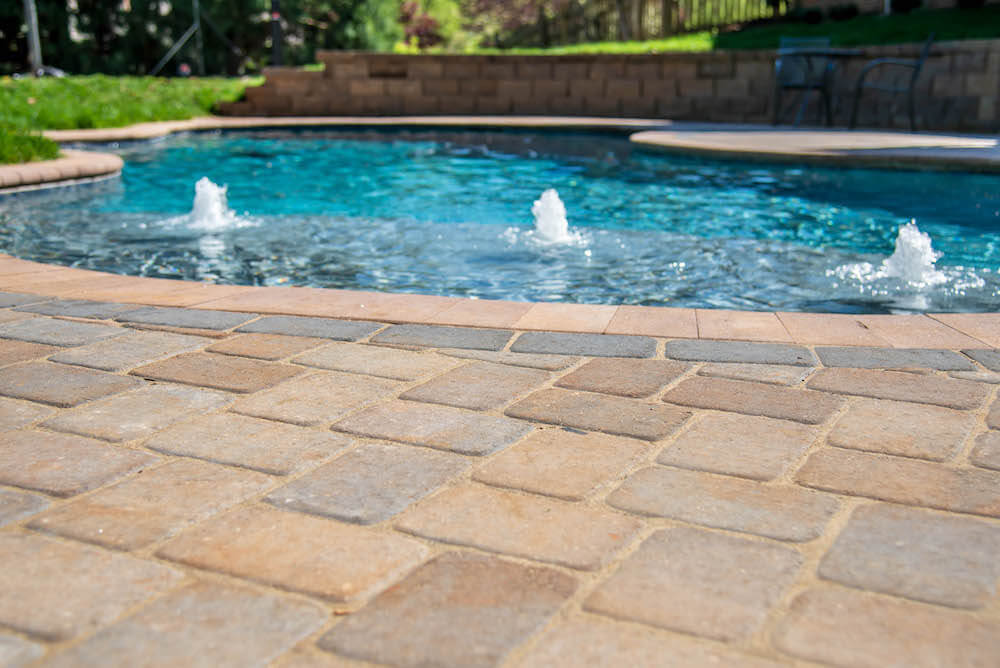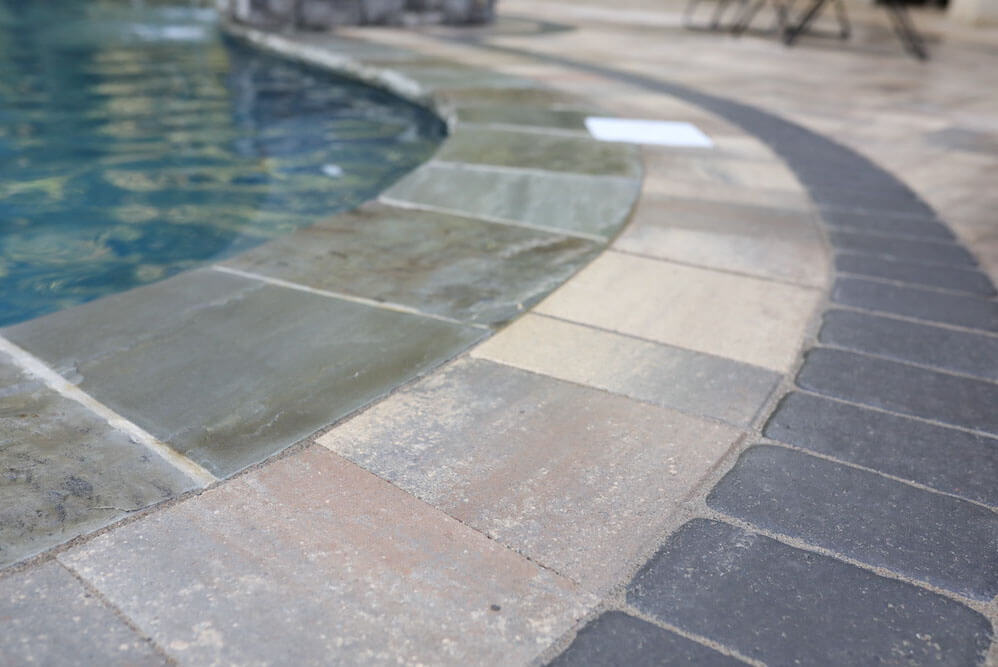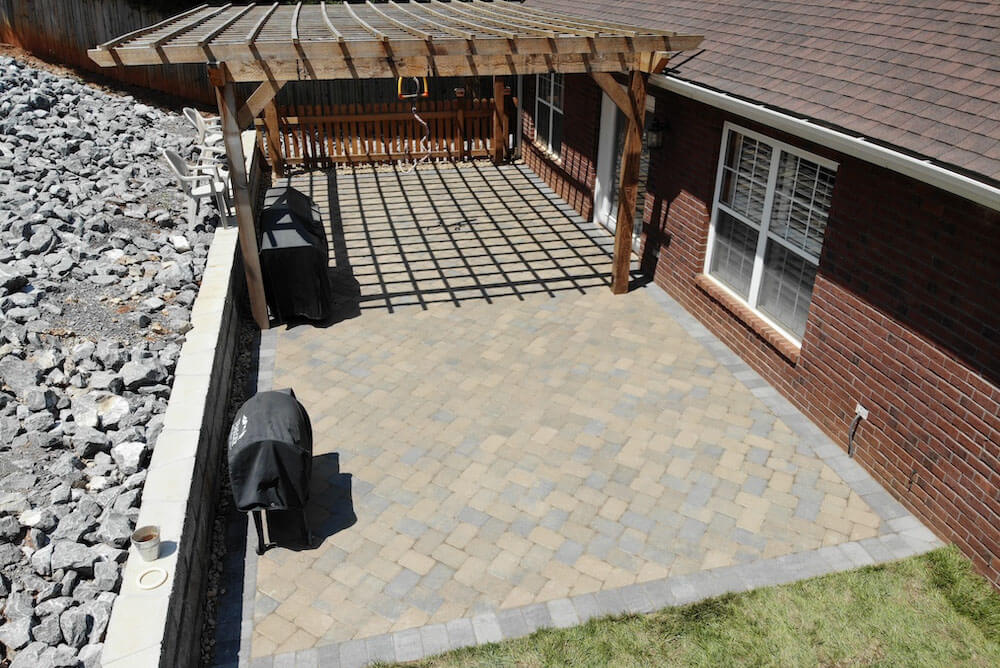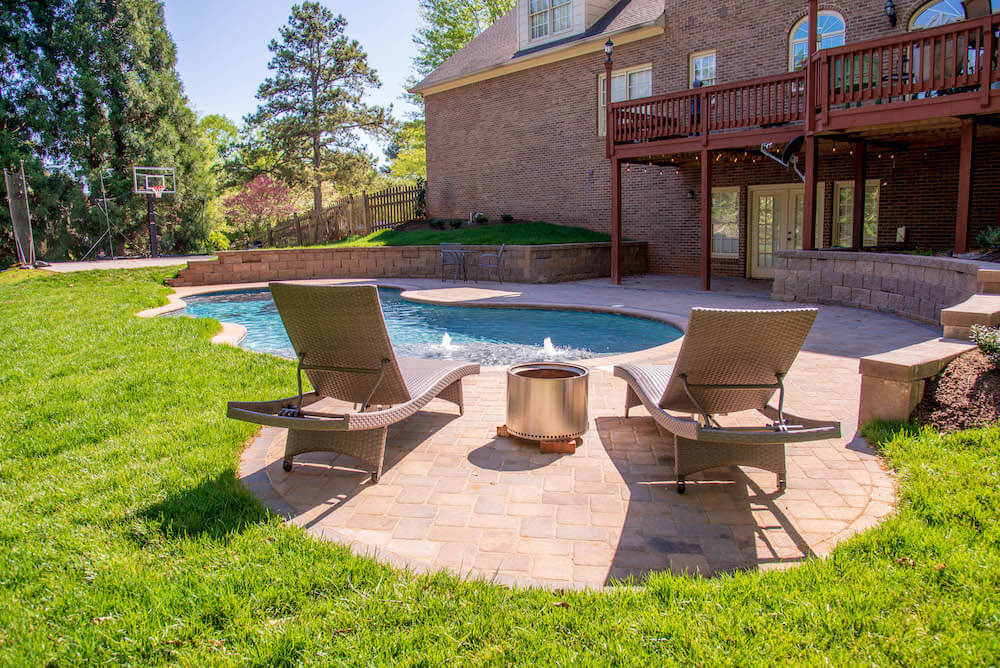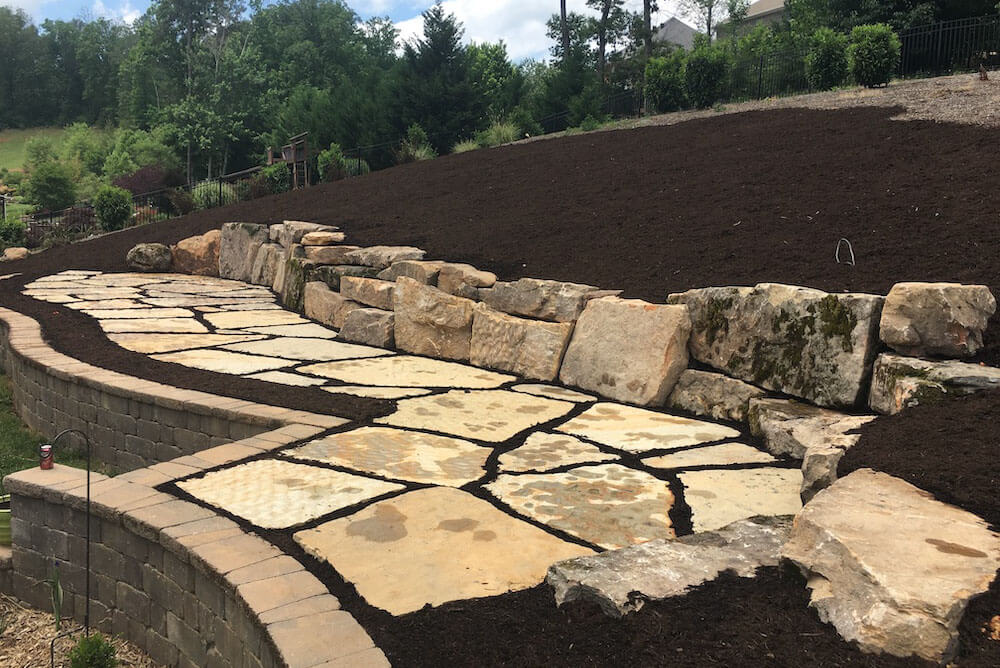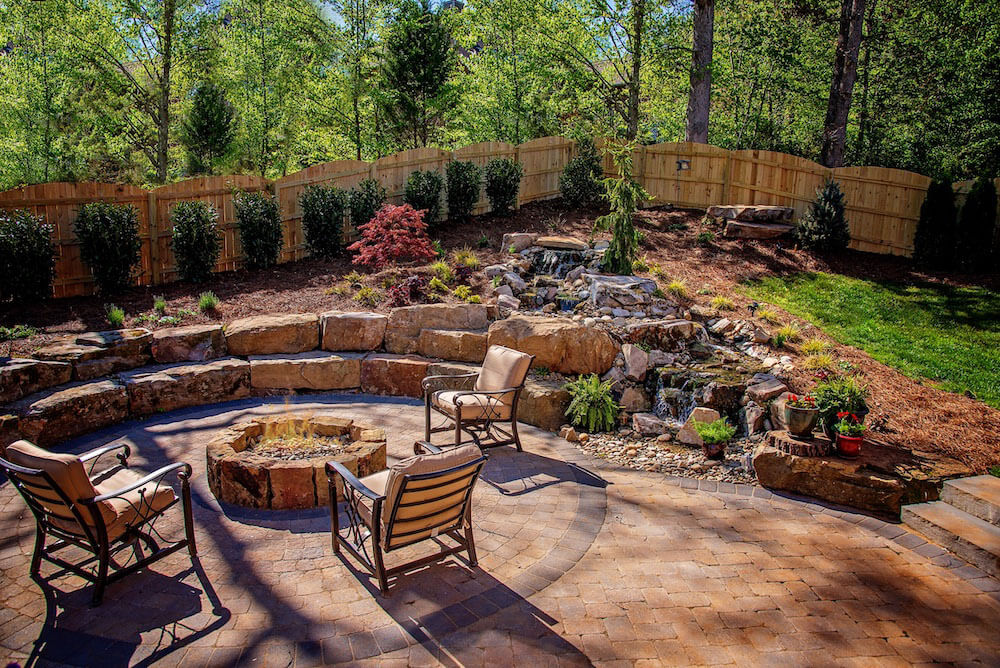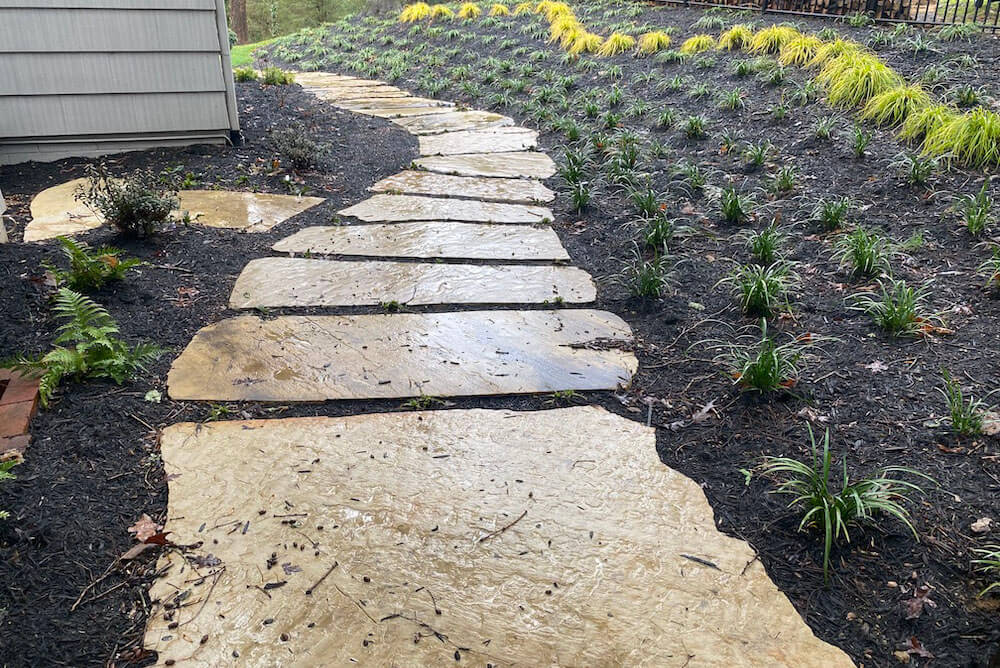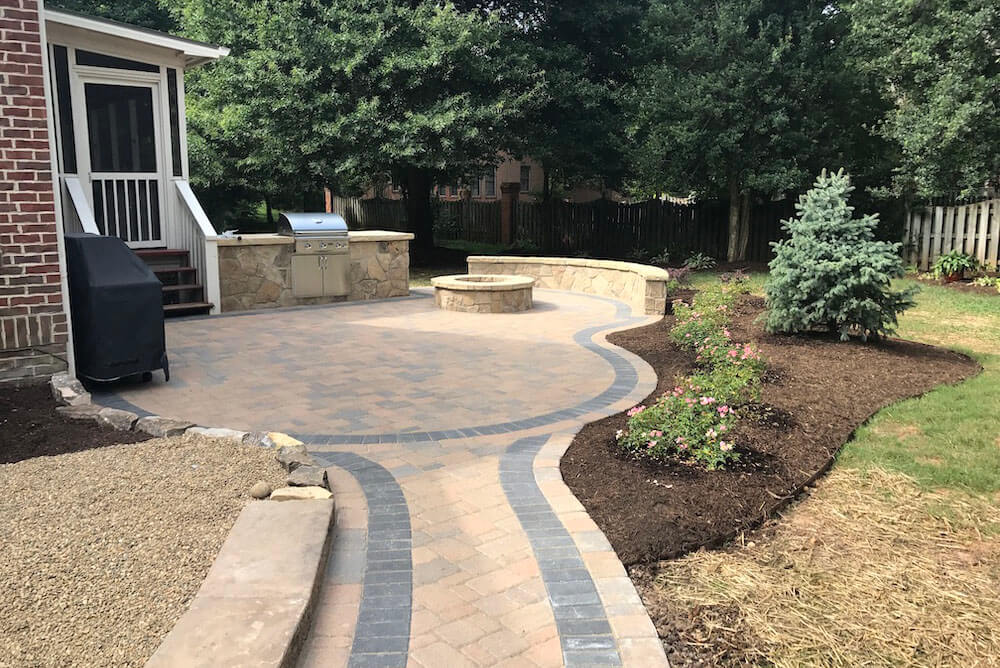 Pathways & Patios
A patio can be the backbone of a design. At Avant we can install a stone, gravel, or paver patio that can fit with the style your home and blend seamlessly into the landscape.
Fire Features
Fire pits and outdoor fireplaces are one of the best ways to enhance your landscape. They allow you to spend time with friends and family around a warm fire year-round. Of course, everyone knows that fall is the BEST time of year to get a fire rolling in your backyard. Homeowners should consider all fuel choices, including natural gas, liquid propane, or natural wood.
Pools and Spas
Pool and spa hardscapes serve as the central gathering area of your backyard pool oasis. The mix of possible materials is endless. Depending on the design of your home—as well as existing materials—you may consider concrete pavers, bricks, stone, grass, synthetic turf, pea gravel, and concrete. The most popular choice for pool coping (the immediate surface surrounding the pool) is natural stone, followed by pavers.
Accent Walls & Retaining Walls
A retaining wall can help open up the space in your backyard or add interest to the front yard. Depending on your particular needs, a retaining wall can also act as a large drainage system. An accent wall or seat wall can add quite a bit of seating to a patio space without taking up room like traditional furniture. Seat walls are often built at a finished height of around 20", which is the standard height of a chair.
Outdoor Kitchens
Bringing your kitchen outside can act as a gathering space for family backyard BBQs. Homeowners have requested all sorts of convenient features in their Avant-built outdoor kitchens, including: gas grills, smokers, prep sinks, refrigerators and refrigerator drawers, pizza ovens, storage cabinets, lighting, shade, and countertop space. We can help you design an outdoor kitchen that will serve all of your outdoor entertainment needs.
Masonry
Masonry—whether brick or any type of natural stone—can be a showpiece in any hardscape. One of the most important considerations in your masonry project will be the pattern. Brick walls are often done in the classic "running bond" pattern, but other impressive looks include herringbone, English bond, and stack bond. For natural stone flooring, rectilinear cut stone is often installed in an ashlar pattern (a specific pattern of seemingly random sized stones), while flagging (or flagstone) refers to randomly shaped pieces of stone in a random but pleasing pattern. Wall stone has even more possibilities and our team can guide you on what will work best for your project.
Stairways
Stairways in a hardscape can be constructed from an assortment of things such as cut stone slabs, flagstone, Belgard block and caps, brick, and many other things. Adding a set of stairs to a slope not only makes your landscape easier to traverse, but also adds visual interest to the property.