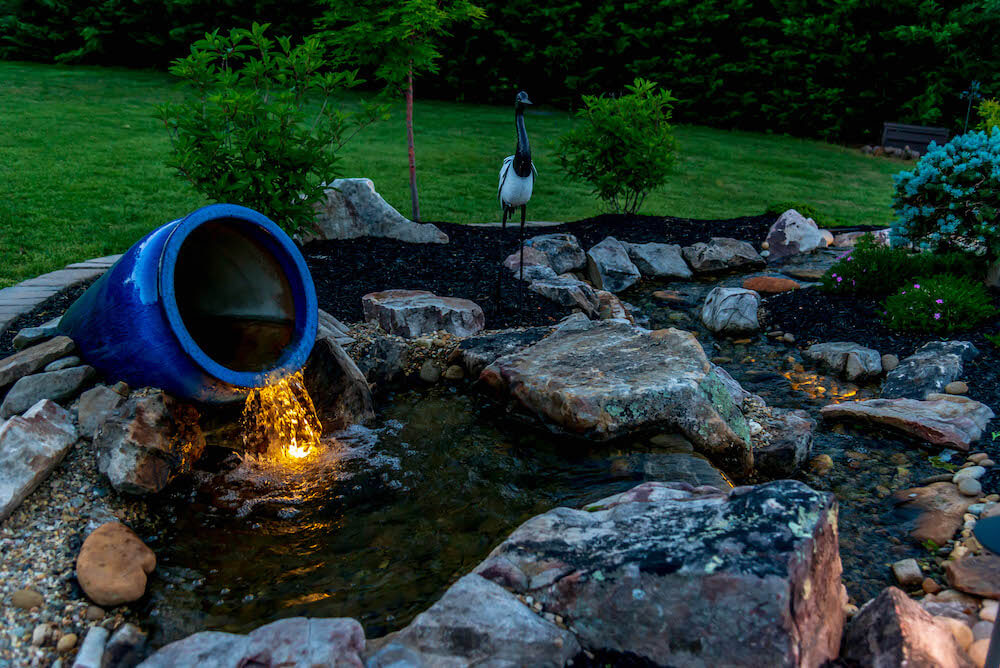 In my opinion there is no better component to an already great home or outdoor space than the addition of landscape lighting. Please note that a spotlight or the solar lights from the big box store do not count. We are talking about a professionally installed, direct wired LED Landscape Lighting System.
Here are five reasons to add landscape lighting.
1 – It looks Awesome!
Landscape lighting can be used to highlight the favorite features of your space whether it be the stone on your house, a waterfall, or some favored plants and trees. There are many techniques that can be used to create dimension to a garden or add element to the front of your home. You can vary the distance and spacing to illuminate, shadow, and create silhouettes. Sure, a beautiful landscape can stand alone, but adding light to a space can make it remarkable!
2 – Safety
Landscape lighting not only adds a beautiful look to your property, but also the sense of safety when traversing your spaces. When walking around a property with well-designed lighting it can assist guests through pathways and multiple gardens. It can keep narrow paths and paths next to the pool safe and easy to travel. Consider landscape lighting if you have a space that could use the added safety.
3 – Security
A well-lit exterior of a home ,as opposed to a dark home ,is less likely to be a target of burglars or vandals as it will be easier to see them at night. Another good reason the classic "leave a light on for you" is still used to this day. Pulling up to a nicely lit home at night is provides a more at ease feeling than pulling up to a gloomy dark lit space.
4 – Lighting Adds Value
SOLD! You had me at add value but adding lighting to a home or entertainment space will also make it easier to sell? Some homes you just expect outdoor lighting and some houses are even more beautiful when lit than you would have ever expected. Lighting can show off those columns or stone texture like nothing else and add value you can't see during the day. Another consideration is if there are other houses for sale in the area, adding lighting can set your house aside from the rest.
5 – Brighten your day!
It can be discouraging to have planned a beautiful home, garden, patio, or pool area and only be able to use it half of the day. Although summer may give you added hours of light, in the winter it gets dark around 530. Simply by adding lighting you can extend your outdoor enjoyment and brighten up that already bright day!
At Avant we like to consider the space or home being lit in all aspects of its use. We will lay out a well-designed landscape lighting plan, spec out proper fixtures, bulbs, and wattage necessary, and make sure your system is optimized for how you want to use it. Give us a call and lets dive into adding the lighting dimension your space deserves.